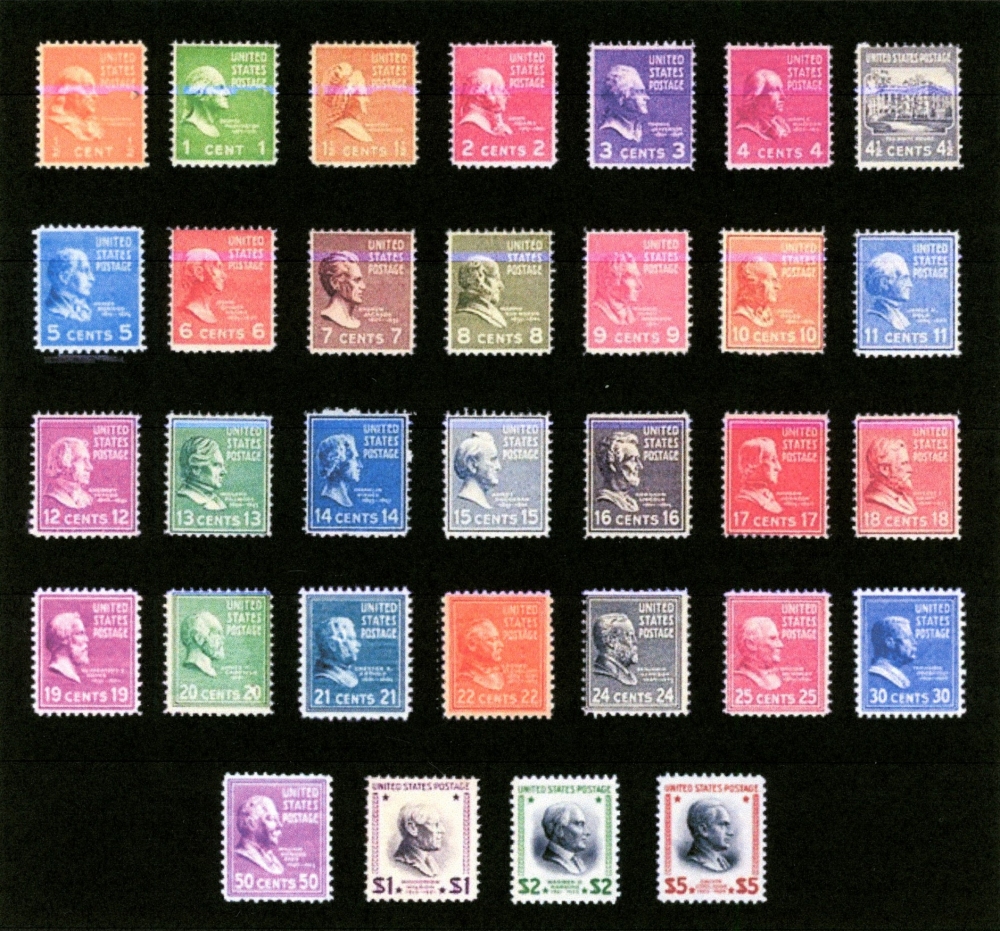 THE 1938 PRESIDENTIAL ISSUE
A Postal History Look at Rates & Usages
By Hal Klein
Select Exhibit To View
BACKGROUND: "James Waldo Fawcett reported in his March, 1935, column in the Washington, D.C. Sunday Star that the issuing of the proposed new series, "…to which collectors are opposed," would be a decision made by President Roosevelt. Mr. Hugh Southgate, in an article in March, 1935 issue of The Bureau Specialist stated that, "…the 'universal protest' that Mr. Fawcett seems to think exists has not exhibited itself in the philatelic press to any great extent." He further went on to say that the government should make the decision on new stamp issues and that "the hundred thousand or so collectors have little to say and are becoming disgusted with arguments and criticisms that fill the press and only want a chance to stick to their knitting, study their stamps and have a little bit of change left to provide shoes for barefoot kiddies after they have procured the latest items issues."1
Consideration of a new series of definitive stamps depicting all deceased presidents to replace the Fourth Bureau Issue surfaced as early as 1934 and after a series of competitions and design rejections in a design competition that ended on September 5, 1937 had won. Ms. Elaine Rawlinson, a young 25-year old designer, who had studied at the National Academy of Design, the Beaux Art Institute of Design and the Pennsylvania Academy of Fine Arts Country School, was the winner of the Presidential design competition.
At a glance, the 1938 Presidential Issues, affectionately called The Prexie or Prexy Issue (by those who love it), includes 24 basic definitive design issues plus nine (9) horizontal coil and four (4) vertical coil issues. In the 20th Century, Definitive Series had, on average, a 15-year lifespan before a new Definitive Series was released with a quick phase-out of the old Series. The 1938 Presidential Issue had a twenty+year lifespan, lasting thru three major wars, 90+ international civil wars, revolutions, rebellions and conflicts, between 1945 and 1964. The Prexy Issue was the workhorse of the U.S. Postal system as the country passed from rural electrification to the atomic age and the computer age.
OBJECTIVE: The exhibit is a select group of domestic and international postal history rates and usages. The rates are shown in a progressive and chronologic order, breaking rates into their various service components demonstrating beginning and ending periods to illustrate their complexities. Auxiliary markings are demonstrated and explained. Foreign and Domestic Rates, including: Supplementary Rates, Postage Due, Prexies used in Lieu of Postage Due stamps, Special Delivery, Insured, Return Receipt, Avis Reception, Other Article, Forwarding, Paquebot, Return Mail, both rare and common are shown. Split-Rate Domestic and International airmail Contract and Treaty rates are presented. Military Postal Office Wartime and Peacetime Rates and Usages with Quartermaster Corp. Auxiliary Markings revealed. The covers shown from any Rate Group represents only a few examples of the total Rates & Usages of this postal history period.
REFERENCE:
1. Roland E. Rustad, "THE PREXIES" ©1994, Bureau Issues Association, Belleville, Illinois,
All copy, unless noted, artwork, and images shown ©2017 Hal Klein. All Rights Reserved.