1¢ 1851-57
Plating Initiative
Contributers include: Richard Nance, Douglas Kouril
Some images and information courtesy of Richard Doporto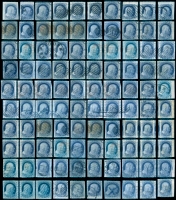 The 1¢ 1851-57 Plating Initiative was started as an foundational, long-term archive for the 1851-57 Franklin 1 Cent stamps plating information. This is a community effort, others are welcome to join in and help publish this information for decades to come. Please use Contact page if you would like to contribute images or with data entry.

Easy Identification US 1c 1851 Issue
By Bill Weiss
There are multiple ways that a list like this can be compiled; by order as listed in the Number Specialized Catalog (Type I,Ia,Ib,Ic,II,III,IIIa,IV), by order of issue, by a process of elimination based on unique design characteristics or in the order that a collector or dealer is likely to acquire them, from the most common to the rarest (Based on Number "VF" catalog value). For this article, we will use the last method.
1. TYPE IV (Number #9) is defined by the fact that the outer curved frame lines at the top and/or bottom are recut. There are 7 different possible recuts;

1X at top + 1X at bottom;
1X at top;
1X at top + 2X at bottom;
2X at bottom;
1X at bottom;
1X at bottom + 2X at top;
2X at bottom + 2X at top;
Tip – Recut lines are much heavier than the normal curved frame lines , so look for that feature. Compare Type IV with Type II, which has normal curved frame lines.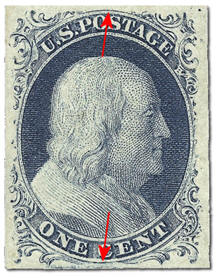 Type IV
---
2. TYPE II (Number #7) is defined by having complete curved frame lines at top and bottom but with parts of the bottom outer designs missing (incomplete).
Tip – compare to Type I, which has complete design or to Type IV, which has the curved frame line(s) recut.
Type II
---
3. TYPE IIIa (Number 8A) is defined by having the curved frame line above "U.S. Postage" OR below "One Cent" broken (but both are not broken);
Tip – If either the top or bottom portions of the design are cut off by poor separation such that the defining characteristic cannot be clearly seen, then the only way to positively identify this type (III a) as well as several other types that may have the defining parts missing, is by original plating (whereby the stamps is located to the exact position on the plate).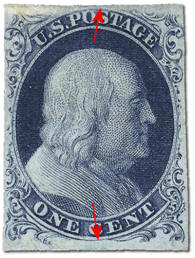 Type IIIa
---
4. TYPE III (Number #8) has the curved frame lines at top AND bottom broken (note that Tip given for Type IIIa also applies to Type III);
Type III
---
5. TYPE Ic (Number 6b) has partly cut away top, bottom left plume is complete (or nearly complete), bottom right plume and tiny ball ornaments are incomplete.
Tip – All of the different type I designs are difficult to identify, so careful examination is necessary. Eliminate the other more common Types so that you can safely conclude your copy is a type I variation.
Type Ic
---
6. Type Ib (Number #5A) has complete top and nearly complete bottom, but the plume-like scrolls at bottom and balls below bottom label not as clear as Type I (which is totally complete on all four sides)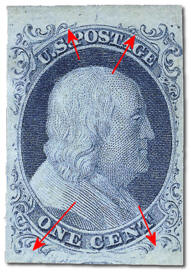 Type Ib
---
---
8. Type I (Number #5); is complete on all four sides except very slightly incomplete at top. This type only occurs on one position on the right pane of Plate 1 Early (Position 7R1E). It is an extremely valuable stamp used or unused and the likelihood of you ever encountering this stamp are very slim, but it of course is included in the correct place on this list
Type I
And briefly listing these in Number order is as follows;
Type I Number #5, complete design;
Type 1b Number #5A, complete at top but not fully complete at bottom, though nearly so;
Type Ia Number #6, complete at bottom but top slightly cut away;
Type Ic Number 6b, same as Type Ia but bottom rigbt plume not complete, bottom left is complete;
Type II Number #7, complete at top, but not at bottom and missing more parts of design than Ty.Ib,Ic;
Type III Number #8, curved frame lines at top ad bottom are both broken;
Type IIIa Number #8A, top or bottom curved line broken, but not both;
Type IV Number #9, top and/or bottom curved lines recut.



Additional Resources
Designs of the U.S. Regular Issues of 1851-1860
Postage Stamps of the United States - 1851
Graphical Plate Reconstruction
Click On Images Below To See More
Compression Images
Compiled by Richard Nance
Guide Dots 1¢ 1851-57 Issues Note: Guide Dots can be found on rows 1-9, 21-29, 41-49, 61-69 and 81-89. Click on images below to see high resolution version. The Guide Dot images project is currently in-process. Each Guide Dot image takes a number of hours to generate, check back as new images will be added over time.
1851-57 Frame Names and Letters
by Don Denman
Each part of the frame is assigned a name by Neinken and these are used by many hobbyists when discussing a stamp's plate position. Below is an illustration with these names identified; simply pass your mouse over the yellow dots in illustration drawing to see name.
Step-By-Step Type Identifier Tool
by Douglas Kouril
A simple, step-by-step tool which allows you to determine the Scott Catalog number of a 1851-57 1 Cent Franklin stamp. Answer each 'Yes/No' question until you arrive at the identification.
Stamp Family Community (SCF) 1 Cent Thread Index
The SCF forum has a number of very good threads regarding 1 Cent Plating. They are linked here to provide hobbyists with additional resources.