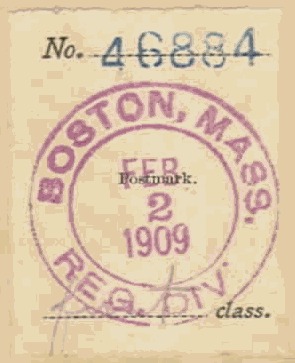 1549a Registered Label Database
This project is the results of information contributed by many folks since 2004. We can now present it in data base form with images thanks to the Stamp Smarter team. Please add additional examples of the use of this 1549a label as you can.
The label show here is part of a customer prepared window receipt used only between 1907 and 1911. It was used only at a limited number of post offices with a high volume of registered mail. Its purpose was to have the person mailing a registered letter complete the return window receipt.

The postal clerk would then postmark this label, affix it to the item being mailed, and the receipt portion was returned to the customer. Its use was discontinued on January 1, 1911, when all post office markings on registered letters were moved to the back side of the item. This database documents all reported items bearing this label. A listing of labels found used as these specific post offices is found on the View Database page. The default listing is in date order. The user can sort on some of the other fields.

The current data includes examples of usage from about half of the post offices which were authorized to use this Form 1549a label. Postmasters were also free to provide these labels to other requesting post offices. We invite all visitors to add new information to this cover database. Please contact the Administrator for instructions on how to add covers or provide covers for entry into the database.
View Statistics