NORTH WEST PACIFIC ISLANDS
1d ROSINE PERFORATED OS SG16
A short study
A mixed die pair of the KGV OS 1d Rosine on rough unsurfaced paper (Die 2/Die 1 in this case, SGO16a/O16) bearing the circular date stamp of Talasea (Powell 92). The Royal Collection is reported to have a Die 1/Die 2 pair of SGO3 (1d Carmine Red), although it is believed that no panes containing the Die 2 units were overprinted in that shade on smooth paper. It is possible that this reported pair is, in fact, Rosine
The 1d Rosine (SGO16) was, until the early part of this century, the only OS puncture listed in Stanley Gibbons British Commonwealth Stamps Part 1. It remains the only NWPI value punctured OS that does not have an equivalent un-punctured. In the two censuses carried out by Williams et al in 2001 and 2005 a small number of this issue was reported. Since 2005 more copies of the value have surfaced in both Die 1 and Die 2 used, but no further mint examples have been seen. 3 mint copies of the Die 1 have been recorded and one copy of the Die 2. There are but two covers recorded, one with a Die 1 unit and the other a Die 2. There are probably 30-40 used examples of Die 1 and 20 or so Die 2. It remains an elusive stamp with a high catalogue value1. Originally it was thought that there was one used se-tenant pair only, however illustrated are multiples of 12 with 4 Die 2 units, 8 with 4 Die 2 units, two se-tenant pairs on piece and a strip of four, the first unit being Die 2 containing between them 9 potential Die 1 Die 2 se-tenant pairs. One other similar pair has been located since 2005. That having been said it is extremely unlikely that these iconic multiples will be broken up.

The Die 1 copies which have been seen are almost universally centred to the lower left and are seen cancelled at Rabaul, Talasea, Manus, Eitape and Kieta. The multiples containing the Die 2 units benefit from much better centreing.
Above are the usual lower left centreing on Die 1 Rosine (SGO16) of which some 24 copies were reported by Williams et al2
Above a single copy of a Die 2 cancelled with a faint Talasea cds.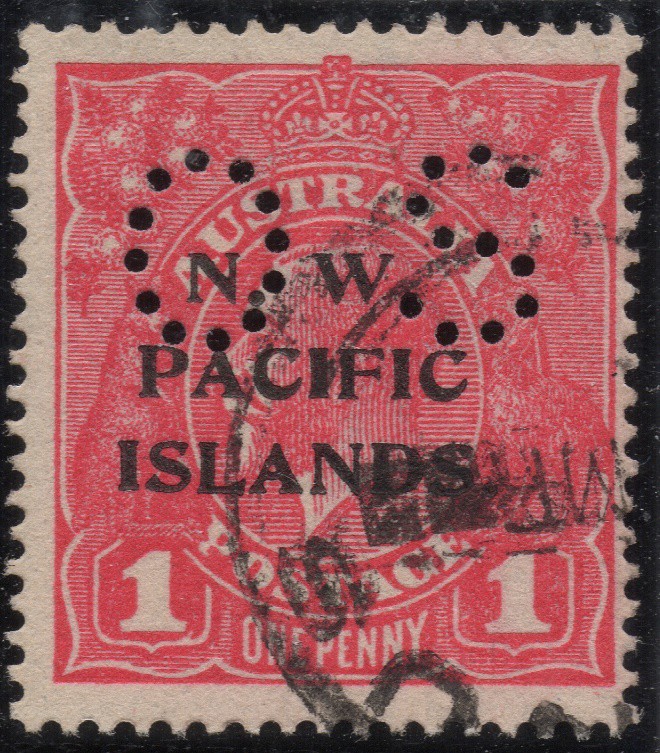 A Die 2 unit cancelled at Manus
It is presumed that the Rosine shade was part of the March-July 1918 printings3 of the un- overprinted Australian stamp. All the Rosine printings sent to Rabaul were punctured OS and the first delivery arrived at Rabaul in January 1920. Earliest recorded use was on the 12th of April 19204. Interestingly in the Robson Lowe sale of New Guinea in 1964 an unpunctured 1d Rosine was offered although it has not been seen since and was in all probability mis-identified. The sale was important in having over 7,000 New Guinea GRI and NWPI stamps. The Multiple of 12, the two pairs on piece and the strip of four are in an Australian collection. The remainder are in the collection of the author.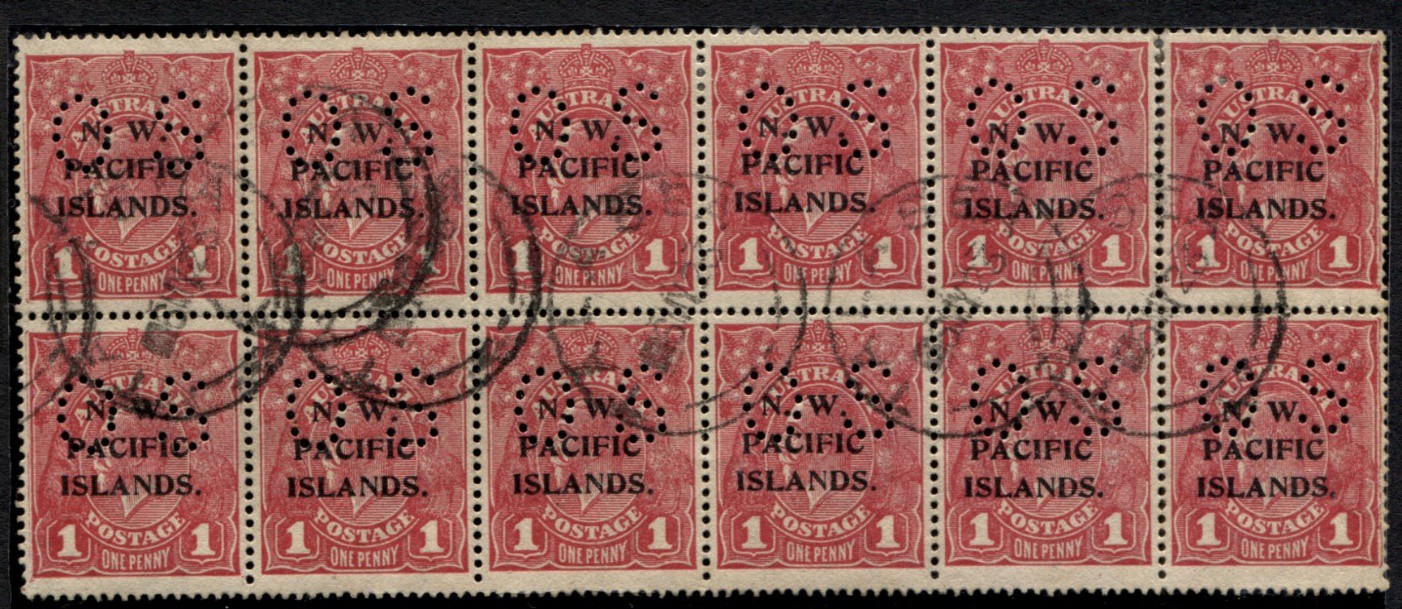 The Talasea block of 12 with 4 die 2 units
The Talasea block of 8 with 4 die 2 units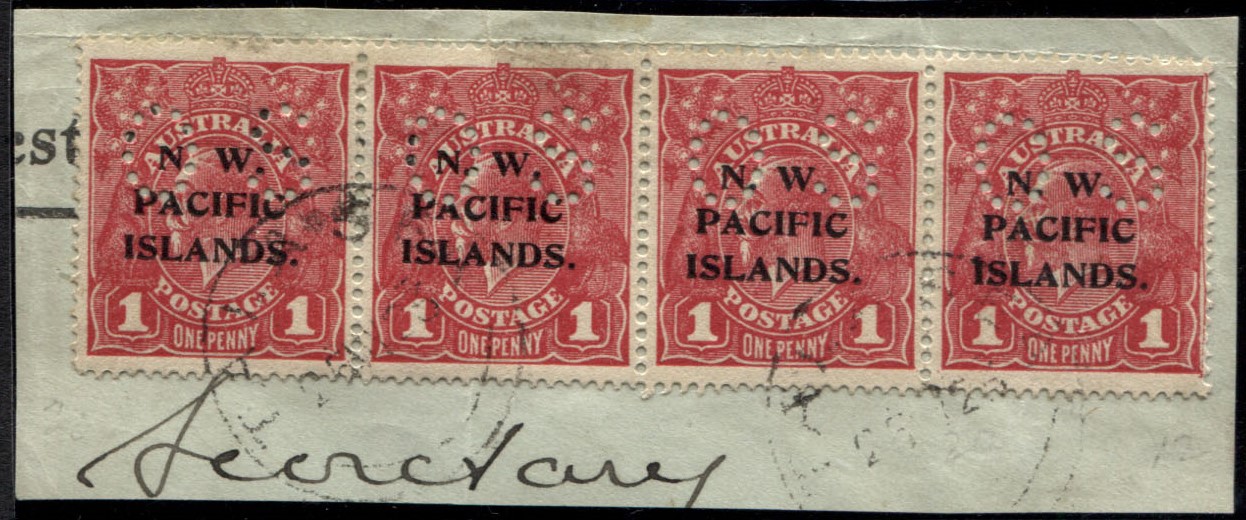 The Talasea strip of 4 with one die 2 unit on OHMS piece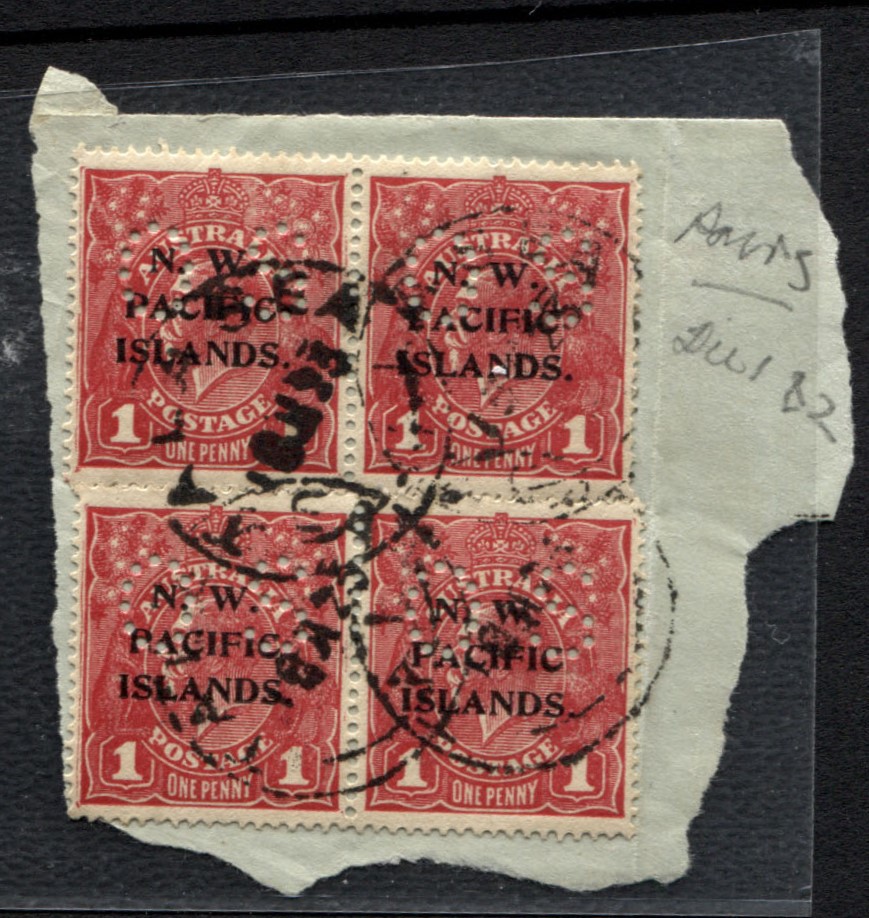 Two Die 1 Die 2 pairs on piece with Talasea CDS
The Die 2 copies illustrated here are remarkable in that 13 of these bear the Talasea circular date stamp (Powell 92) for 1923, whilst only one bears another town cancel - Manus (Powell 84).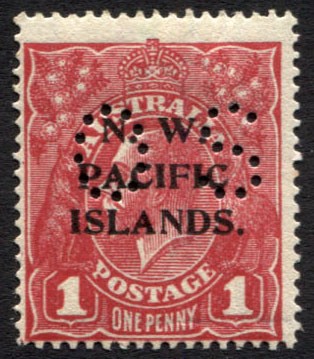 One of the three known mint copies of the Die 1 1d Rosine (SG16) with usual lower left centreing
Matched pair of Australian un-overprinted 1d Die 2 Die 1 1d Rosine
1 SGO16 £1,200 mint, £200 used. SG16a £5,000 mint, £950 used. SG Catalogue values as at 2021.
2 New Guinea, Australian Stamps Overprinted North West Pacific Islands and perforated OS; Williams, Banwell and McMackin, supplement to the Bulletin of the British Society of Australian Philately April 2001 and June 2006.
3 The Australian Commonwealth Specialists' catalogue: King George V, 2018, page 4/89 and 4/93.
4 See Footnote 1