Coils
Rolls of stamps were made up from sheets of stamps. The sheets of stamps were cut or torn into horizontal or vertical strips. The strips were pasted together by the sheet margin, the so-called coil joins, to make longer strips. The paste-up strips were then coiled into rolls.

These rolls of stamps were produced for businesses that used stamp affixing machines. The device would hold a roll of stamps. It had a water reservoir, so the stamp could be moistened and affixed to the mail item. This was quicker than manually detaching a stamp from a sheet, licking the gummed side, and affixing the stamp.

In the early 1930s, the post office experimented with stamp vending machines. The stamps from the past-up rolls occasionally jammed the vending machines. The solution was found in the production of stamp rolls from continuous reels. The stamps from these rolls have imperforate edges.


Rolls of the 1d "Map of Ireland" stamps from continuous reels for use in vending machines with vertical delivery were introduced in April 1933. The stamps had horizontal perforation gauge 15. The vertical sides were imperforate but for a single perforation hole at the top of the stamp. From July 1934, the stamps from such rolls had fully imperforate sides. In 1935, the 2d "Map of Ireland" stamp also appeared perforated 15 x imperforate. This stamp is very rare.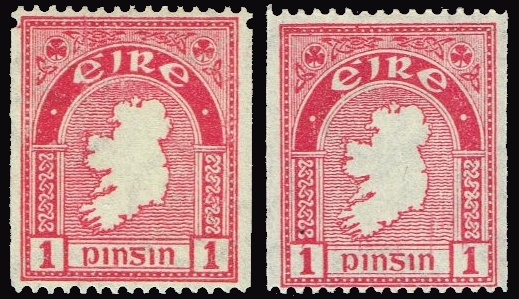 Horizontal Perforation Gauge 15
Vertical Perforation Gauge 14
In November 1934, rolls of 1/2d "Sword of Light" and 2d "Map of Ireland" stamps with sideways delivery were released. These were imperforate horizontally and had a vertical perforation gauge 14. These stamps, exclusively, were produced for businesses with stamp affixing machines.