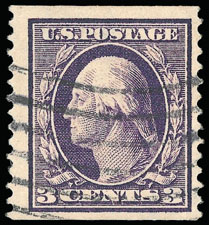 The Orangeburg Coil

3¢ Washington Head
Perf 12
Flat Plate Coil
*The Orangeburg Coil illustrated is from the United States Rarities sale, Robert A. Siegel Auction Galleries, Inc. - October 17, 2006, Sale #920.

Number 389 "Orangeburg Coil" - Three cent coil stamps were not issued until 1911, and then only to the Bell Pharmaceutical Company of Orangeburg, N.Y. These stamps were perforated 12 vertically on single-line watermarked paper. Later that year the first regularly issued 3¢ U.S. coil was offered to the public, perforated 8½ and also on single-line watermarked paper, Number 394. Note that there is no verttical coil of the 3¢ Washington perf 12 stamp. The 389 is an exceptionally rare stamp, highly unlikely to show up in an unchecked mixture. If it is used, it is always found with one of two wavy-line cancels. For an excellent look at how experts view this stamp, please see the Philatelic Foundation article here.

Fakes - There is no imperforate stock from which to manufacture this stamp, although attempts may be made to pass off the double-line flat plate imperforate Number 345, with added perforations left and right, but this should fool no one, since the Orangeburg coil is always single-line watermarked. Perhaps a little more difficult are fakes made from the unwatermarked flat plate imperforate stamp Number 483, but again the lack of watermark is a problem. Most fakes are made from the perf 12 stock, Number 376 by trimming the top and bottom margins and these fakes can be somewhat convincing if the starting stamp was a jumbo with the proper cancellation and color, a deep shade of purple. This problem is compounded by the fact that genuine examples of the stamp measure a little on the small side, with genuine copies measuring as small as 23.5mm tall. They typically measure less than 1mm shorter than the ideal measurement for flat plate coil stamps, that is at least 25mm tall. Often important in the certification of the stamp is that on many, particularly the ones centered toward the bottom, the design slopes down from left to right in relationship to the coil edges. Since this stamp is one of the great rarities in U.S. philately, it should never be bought or sold without certification.